Dublin - 15-16 November 2013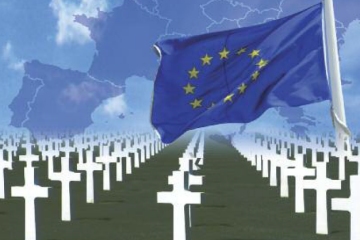 People's Movement
Peace and Neutrality Alliance
Conference
The EU - the Military Dimension
Ireland Institute
27 Pearse Street, Dublin 2
Friday, Saturday, 15-16 November 2013
The conference programme is available here.
---
Dublin - 30 April 2013
People's Movement
Protest
Against Dublin meeting of the EU Military Committee
Assemble opposite the Olympia Theatre
Dame Street, Dublin 2
Tuesday, 30 April 2013, 1:00 p.m.

For information on the EU Military Committee, see here.
---
Dublin - 25 March 2013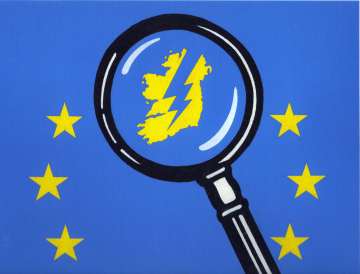 People's Movement
Protest
EU warmongers go home!
Dublin Castle
Monday, 25 March 2012, 1:00 p.m. Assembly point: opposite the Olympia Theatre, Dame Street.
Information about the EU's inter-parliamentary conference on Common Foreign and Security Policy is available here.
---
Shannon and Irish neutrality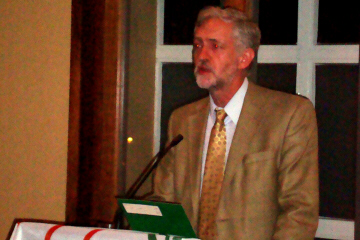 Jeremy Corbyn, MP for Islington North, attended the one-day conference that was recently organised by PANA and IAWM in Shannon, and this article by him appeared in the Morning Star, on 9 September 2009.
---
EU military hoist the flag
The militarisation of the EU could be clearly seen when the flag was raised outside the European Parliament recently.
---
Study of EU militarisation
An important study on the militarisation of the EU is by Ben Hayes of Statewatch is available here.
---
Demand for action against Israel
In response to the slaughter of hundreds of Palestinian civilians during the recent Israeli attack on Gaza, the People's Movement has called on the Irish government to dissociate itself from the EU's support for Israel, and for a programme of boycott, divestment and sanctions against Israel similar to that directed against apartheid South Africa. Read the press statement here. [23 January 2009]
---
New study of Ireland's military policy
Andy Storey, from the Centre for Development Studies in University College Dublin, has prepared a document entitled 'The future of Ireland's military policies and practices within the NATO-EU context' for presentation to a meeting of the Oireachtas sub-committee on Ireland's future in the European Union.
A copy of the document in PDF form is available here [November 2008].
---
The documents below discuss current threats to Irish neutrality and international peace:
1. The text of a leaflet on the military implications draft constitution of the European Union, issued by the People's Movement on 20 March 2004.
2. The Thin End of the Wedge, 31 March 2004.
3. EU Militarisation. A People's Movement document scrutinises the military provisions of the draft EU constitution (PDF format), 20 October 2005.
4. EU Battlegroups Legislation. A Green Party policy statement dealing with the major issues is available here. Note that the size of this file is 2.98 MB. [10 July 2006]