A new print by Robert Ballagh, in a limited edition of twenty-five, is available from the People's Movement. The print depicts one star in the EU flag representing a fractured EU member state — Ireland!
The print, which is 37 × 30 cm, costs €125 unframed and €150 framed. All proceeds go to supporting our work. Phone 087 2308330 for your copy.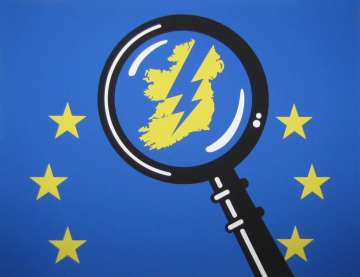 Tá prionta nua le Robert Ballagh, in eagrán atá teoranta do chúig chóip is fiche, le ceannach ó Ghluaiseacht an Phobail. Léiríonn an prionta go bhfuil ceann de na réaltaí ar bhratach an AE ina smionagar - mar atá, Éire!
Cosnaíonn an prionta (37 × 30 cm) €125 gan fhráma nó €150 le fráma. Úsáidfear an t-airgead go léir chun tacú lenár gcuid oibre. Glaoigh ar 087 2308330 chun cóip a ordú.